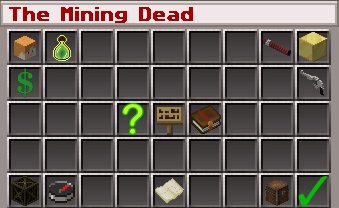 Commands could be divided into 5 category.
Website
Global
Those are available almost on every servers
This one allow you to easily change server passing from : TMD-1 to TMD-7, TMDO-1, HN-1, HN-2, Hub-1 to Hub-4

Note : Added in May 2017, we have TMDPRC-1
Note : in the /server list there is links for 2 tutorial, but actually they are disabled
This one send you back into HAVROCMC main lobby. Could be useful when you encounter some lag, while playing.
Game lobby
Theses one could only be used before you spawn on map
| | |
| --- | --- |
| Open the kit selection page in The Mining dead lobby | Open the selection page in The Mining dead lobby |
| Worked before to open a tutorial session | Lend more spawning option than /sz, but is only available to HAVOCMC Ranks. |
| Spawn at a random location | Show the help screen, have almost all the previous option. |
| Give you option about game's resources | Give you option to change your Gun Camo |
| Suggest to read website shop to learn about them. See also Ranks | |
In-game
This one contain a few option. When empty, suggest a few option. /Team info xxx. Leave empty to print your own team info, or specify to read information on others teams.

Teleport the players inside a safe zone when he is nearby and accept to stay immobile for the next 5 sec.

Withing less than 5 blocks away, you could open a Trading menu with an another players. May be easier to set up inside a safe zone.

Leave empty to learn your fighting stats, or specify a player name to learn his stats.
See also : https://havocmc.net/stats/

To accept a request from someone else

Teleport you to the server lobby

Show the help screen, but work better in game lobby

Give you option about game's resources

No longer work

To find a player

To print your balance

Rank page describe a few more commands who is limited to players who invested real money.
Chatting
active team chat using /t chat, or send a reply to your team stating a line with "@ then your Message"
Note : How do we deactivate team chat? /say (send to all)
Use /shout on, /s off to switch between Global and Local chat (200 blocks radius)
chat visible only between (/tell /msg) two players. Work with more but don't know how to write arguments
Does this work? /msg [name=x, name=y] Message
send a quick response to someone who send you a /msg recently.
Minecraft command used to leave a message about yourself. Broadcast your actions
See also